Software and Hardware Recommendations for SX-PCEAN2 Idle Mode Spurious Emissions
Download this application note to learn software and hardware recommendations for EMI issues you might face if you are using this product in your design.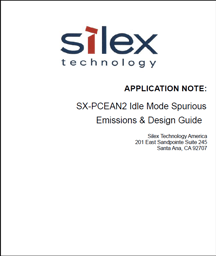 The SX-PCEAN2 is the next generation dual-band 802.11 a/b/g/n PCIe module with industrial temperature support which is designed for devices that require wireless connectivity in a small form factor combined with high data throughput at extreme temperatures.
The following application note will describes spurious emissions you may observe when SX-PCEAN2 is operating in idle mode. It will also outline some software and hardware measures you can take to resolve them.
This application note will cover:
EMI Issue problem description

Root cause analysis

Recommended driver modifications
Hardware Design Guidelines